On Friday, February 6th, 2015, at about 2:42 p.m., officers from the Azusa Police Department responded to a call of a traffic collision in which a child was struck by a vehicle, in the 700 block of W. Eleventh Street, in Azusa. Once they arrived, the officers found an injured nine year old child on the sidewalk in front of Victor Hodge Elementary School.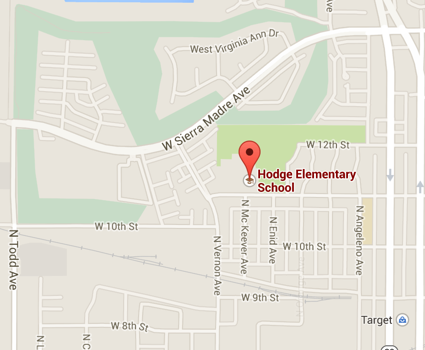 The vehicle which had struck the child was a Chevrolet Tahoe, which was driving by a 65 year old female resident of Azusa. A preliminary investigation revealed that the Tahoe was traveling west on Eleventh Street, when the child suddenly darted across the roadway, mid-block and between designated crosswalks, and into the Tahoe's path. The child was struck by the front of the Tahoe, and suffered a leg injury.
Paramedics from the Los Angeles County Fire Department arrived and treated the child for his injury. Fortunately, the child was conscious and alert when speaking with the paramedics. As a precaution, the child was flown to the Los Angeles County - USC Medical Center. The driver and passengers of the Tahoe were not injured.
While the collision remains under investigation, it does not appear that alcohol or drugs were a contributing factor in the cause of the collision.
Some Learning Points...
Remember, when traveling around schools, please keep your speed under 25 mph. Be very alert for any small children who might do exactly what happened in this case, and dart into the roadway.
Teach your children the correct way to cross a roadway, whether inside a cross walk or not. Although we as adults take it for granted, walking near or on roadways and sidewalks can be dangerous. Watch the video below with your child to learn the safe way to cross a roadway.
If you are a parent picking up your children from a school, please reinforce in them to always use the crosswalk. They exist for safety purposes, and in this area, there is a crosswalk directly in front of the school. Also, please park legally and out of the roadway. "Double-parking" in the middle of the roadway is not a convenience for anyone.