It's 2 o'clock in the morning, and you walk into the nursery to give your newborn their morning bottle. As you sit holding the bottle and rocking your baby back to sleep, you notice the shadow of someone outside your window. You hear footsteps, and then suddenly, the person outside starts trying to open the window.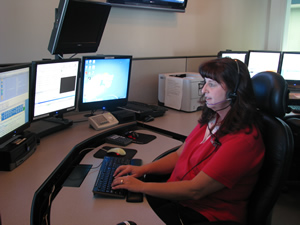 You dial 911 and reach the Azusa Police Department's Communication's Center. You frantically tell the dispatcher what's happening at your home. With both compassion and firmness, one dispatcher starts getting more information from you as another dipatcher presses a button that sends 3 high pitched tones on the radio, and begins dipatching police officers to you. Officers are on their way within seconds of you dialing those three digits on the phone, thanks to a public safety dispatcher.
Answering The Call
Azusa Police Department's Dispatchers not only answer the call for help from the public, but they've answered the call to serve the people of Azusa. Dispatchers have chosen their profession, knowing they will work holidays and weekends, various shifts, and during various seasons. They sometimes miss family functions, birthday parties and anniversary's, if no one else can cover their shift, for the benefit of the public's safety. They've answered the call, regardless if they have a cold or flu, or haven't had an opportunity to eat lunch. In this profession, they can't hang a "closed" sign on the door, or forward the calls to voice mail!
Dispatchers truly love what they do and the fact they are the first in line to help someone in their darkest hour. With professionalism and vigilance, they handle every emergency call with the highest of attention. They are committed to the person on the other end of the line needing help.
Training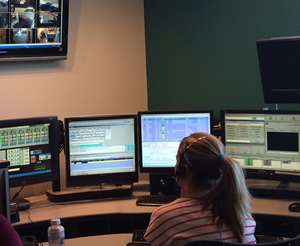 Today's dispatchers receive a minimum of 120 hours of certified training through the California Peace Officers' Standards And Training ("POST") Public Safety Dispatcher Basic Course. This course teaches subjects, such as, law enforcement telecommunications, radio technology and procedures, critical incidents, introduction to law and the criminal justice system, and practical applications.
In addition to this training course, dispatchers undergo a strenuous in-house training program consisting of 6 to 8 months of working directly under a training dispatcher.
History Of 911
The first 911 call was placed on Friday, February 16th, 1968, at 2 pm, in Haleyville, Alabama. This was just 35 days after AT&T announced it's emergency number plan.
The Azusa PD's Communication's Center
As you can imagine, the communication's center contains computers, radios and other equipment which helps dispatchers do their job easily and proficiently. All of the equipment is frequently updated, to ensure compatability with emerging technologies, and assurance that it will work in all types of situations and environments.
Because dispatchers are required to work extremely long hours confined to their workstations, specially designed equipment is provided to each of them. From comfortable headsets and chairs, to mechanical dispatch consoles, every effort is made to ensure fatigue doesn't set in too early in the shift!
National Public Safety Telecommunicator's Week
The conception of a week observing dispatchers originated from Patricia Anderson of the Contra Costa County Sheriff's Department in Calfiornia, in 1981.
The 102nd session of The United States Congress made this week and the name "National Public Safety Telecommunicator's Week" official in 1991.
Every second week in April, we honor the men and women who proudly hold the title of dispatcher. We recognize their contributions to the public safety community, and to the communities they serve.
Send 'Em Some Love...
Visit the Azusa Police Department Dispatcher Appreciation Facebook Event Page to leave some kind words for these hard working and caring dispatchers.
You can also 'tweet some comments to @AzusaPD with the hashtag #NPSTW2014.