On March 27th, 2015 at 5:13 p.m., officers from the Azusa Police Department responded to an emergency call regarding a shooting in the 500 block of W. Tenth Street. Officers quickly arrived on the scene, where they found a 19-year-old male gunshot victim. He was treated for non-life threatening injuries he received after being shot by a suspect in an unknown passing vehicle.
The department's detectives were quickly summoned, and an aggressive investigation immediately began. Click here to read the original article about this shooting.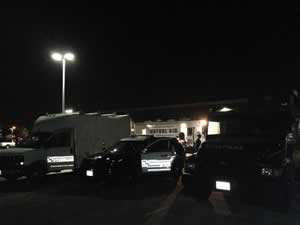 As part of this investigation, a multiple location search warrant was obtained. During the early morning hours of April 17th, 2015, the search warrant was served at the locations. For the safety of the community and detectives, additional law enforcement agencies assisted the Azusa Police Department in the serving of the warrant, including:
Baldwin Park Police Department
Covina Police Department
Foothill Special Enforcement Team
US Marshal's / California Department of Corrections and Rehabilitation Fugitive Apprehension Team
Los Angeles County District Attorney's Office
Los Angeles County Department of Children and Family Services.
Upon the conclusion of the search warrant service, evidence related to the shooting was located, and three subjects were arrested. Anthony Jimenez, a 23-year-old resident of Azusa, was arrested for attempted murder and for violation of his parole. He is currently being held at the Azusa Police Department's Jail facility without bail. Julian Garcia, a 22-year-old resident of Azusa, was arrested for attempted murder and is currently being held in lieu of $1,000,000 bail. Last, Kristie Sandoval, a 29-year-old resident of Azusa, was arrested for having outstanding traffic warrants.
Please call the Azusa Police Department Detective Bureau at (626) 812-3200, if you witnessed or have any information regarding this case. If you wish to remain anonymous, you may click on the "Anonymous Tip" logo at the top of our website.
MEDIA INQUIRIES: This press release was authorized by Lieutenant Mike Bertelsen. He can be emailed at This email address is being protected from spambots. You need JavaScript enabled to view it.. Please call the on-duty watch commander at (626) 812-3200 for any immediate inquiries.
Our Commitment To Our Community
We realize that incidents such as the one which led to this search warrant can make our community nervous and concerned. Please be assured that your police officers are committed to bringing peace to the community and solving the cases that arise from people's poor decisions. Successful prosecution of criminals and the elimination of violent acts such as these are a priority to all of us.
Please stay connected to us on social media and our website, for current information, news, and tips. Please share our information with your friends and family so they too can connect with us, stay informed and stay vigilant in keeping Azusa a great place to live, work and play.