Fireworks In The City Of Azusa
The City Of Azusa has a long-standing tradition of allowing the lighting of "Safe And Sane" fireworks at certain locations, within the city limits. "Safe And Sane" fireworks are those which you can purchase at various fireworks stands within Azusa, and have a label similar to the one shown on this page, affixed on its packaging.
The Azusa Police Department's Mission
To ensure the safety of all residents, business owners and visitors to the City of Azusa, the Azusa Police Department will be deploying additional personnel during the days and nights immediately preceding and on the 4th of July.
Police officers have been directed to issue citations to anyone who:
Lights an illegal firework anywhere within the city
Lights any fireworks north of Sierra Madre Avenue
When Can I Light Fireworks?
You can enjoy your fireworks on July 4th, between noon and midnight.
Can I Light Bottle Rockets, Fire Crackers Or Mortars?
No! All of these types of fireworks are illegal.
Where Can I Light Fireworks?
You can light fireworks in any residential area, except
Schools
City parks
Parking Lots
Alleys
And anywhere north of Sierra Madre Avenue
Click On The Map to Zoom or Download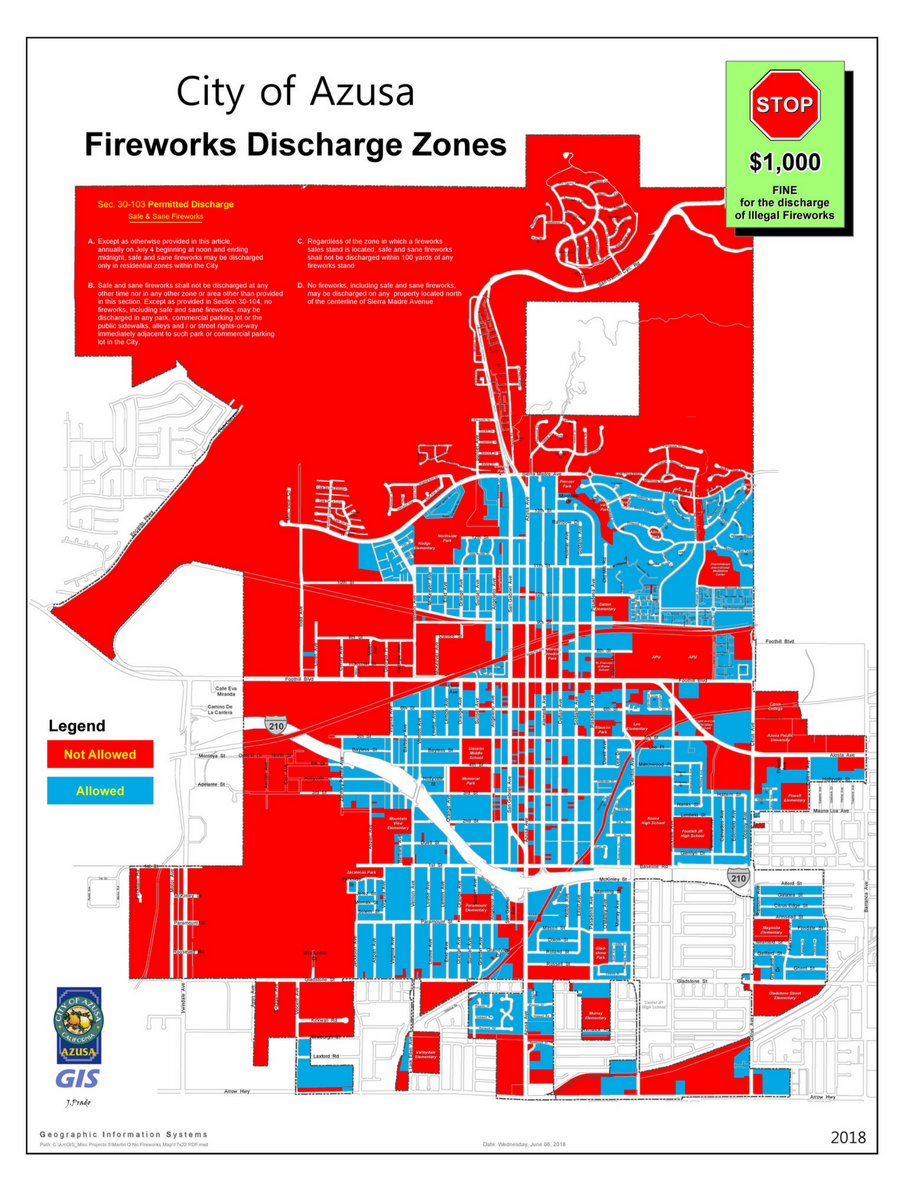 Warning To Those Who Are Tempted To Ignore Our Fireworks Laws
The residents of our great community are supportive of the Azusa Police Department's efforts to keep Azusa just that - a great community. They do not appreciate anyone placing their safety in danger by discharging fireworks in un-approved areas or those which are not legal to discharge. You should know:
The police department and city have made it very well known about our firework laws through various media outlets and advertising venues
The fine for lighting an illegal firework is up to $5,000 per offense
The fine for lighting a firework above Sierra Madre Avenue is up to $5,000 per offense
Our officers may be in patrol cars, regular cars, uniform or plain clothes